2006-2007 Nagar Directory now available!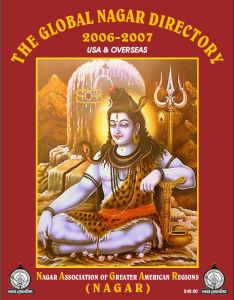 The 2006-2007 Global Nagar Directory was first unveiled during the National Nagar Convention in July in Baltimore. This is the biggest and most comprehensive directory so far and the response to this directory has been very positive and encouraging.
This directory with details of over 1000 nagar families is currently being mailed out to all NAGAR members.
If you would like a copy of the directory, please send your NAGAR Membership dues to

          NAGAR, 
          6 Bellrock Court,  
          Baltimore,
          MD 21236, USA
          
All members receive a free complimentary copy of "The Global Nagar Directory 2006".
Thank you for all your help in creating this directory.
Coming Soon on nagar.org!
Photos from the 2006 national nagar convention. Visit the
nagar.org
website in a few days to see a colorful photo gallery from the convention.
And if you have any photos/stories/feedback from the convention to share, please
let us know!
We will publish your photos/stories on the NAGAR website (nagar.org) to share with the rest of the community.
New Matrimonial Section
The NAGAR website had been featuring matrimonial ads from nagar families all across the world.

We have now updated the matrimonial section so that all registered members can place ads for their family members.

We have also changed the layout of the section to make it more usable and useful.

Please visit the matrimonial section on nagar.org to use this community service.

If you have any questions or concerns, please contact us.


Community News


NAGAR 2006 Wall of fame
The NAGAR 2006 Wall of fame lists all high-school and college graduates of 2006. If you or someone you know graduated in 2006 and are not listed, please contact us.

Rajiv and Urvi Nanavaty complete 1/2 marathon
Congratulations to Rajiv and Urvi Nanavaty of Chesapeake, Virgina for completing the Rock 'n' Roll Half Marathon on Sep 3 2006.

Namita Mankad promoted to Sr. System Engineer
Namita Mankad, daughter of Bhuvnesh & Neelambari Mankad (Fairfax, Virginia) was recently promoted as Sr. System Engineer. She is working with Capital Legal Solutions, Falls Church Virginia. Her expertise is in litigation e-support, content management and e-discovery areas.

Congratulations to Namita on her professional achievement.


Lopa Maharaja completes residency; Shivani Maharaja completes BS
Congratulations to Lopa Maharaja on her successful completion of her residency in Internal Medicine at the University of Medicine and Dentistry of New Jersey.
Congratulations too to Shivani Maharaja who has completed her BS degree in Psychology at the George Washington University (GWU).
Lopa and Shivani are daughters of Purnima and Vijay Maharaja of Baltimore, USA.

We wish them all the best in her continuing education process and serving the community.

Mohit Joshipura's essay on "Indo-US Relations In The 21st Century" judged best in competition
Mohit Joshipura's essay on "Indo-US Relations In The 21st Century" for the 'Bharat Yatra Essay Competition' was adjudged the best by the panel.

Mohit Joshipura is the son of Yogeshbhai and Vishakhaben Joshipura who reside in Houston. His award-winning essay is posted on the nagar.org website in the community news section.

We are all very proud of his accomplishment and wish him the very best.



We love to hear about the achievements of nagars worldwide. To share news about your family or your community,

contact us.




Obituaries
Indiraben Maharaja
Indiraben Maharaja, wife of Bhanuprasad B. Maharaja (former President Akhil Bhartiya Nagar Parishad -India), mother of Vijay and Yogendra Maharaja of Baltimore, Maryland, USA, passed away on September 4, 2006 in Ahmedabad, India.

On behalf of Nagar community and NAGAR, NAGAR Team express their deepest condolences to Mu. Bhanuprasad Maharaja, Vijay, Yogendra and their all family members, and pray our lord to rest her soul in eternal peace. Our prayers are with his family during this difficult time. May god give the strength to bear this loss.

Following prayer meetings are arranged:
1: Ahmedabad, India
September 9, 2006 - Saturday from 10 to 12 noon
17 Sahakar Niketan Society, Navarangpura, Ahmedabad 380009, India
(Tel: 011-91-79-26449765)

2. Baltimore, USA
September 16, 2006 - Saturday from 4-6 PM
9515 Hallhurst Road, Baltimore, MD 21236, USA
(Tel: 410 256 1846, E-mail: vmaharaja@gmail.com, gmaharaja@hotmail.com

Leave a message in the online condolence book | View the online condolence book



Bakul Tripathi
Bakul Tripathi, a prominent humorous writer in Gujarati literature, a long time columnist in Gujarat Samachar, President of Gujarati Sahitya Parishad and our nagar star died in Ahmedabad, India.

He had touched our heart and made many of us laugh in his ingenious humorous style during his many visits to his daughter Tanvi Rupak Desai in New Jersey, USA.

You can read his obituary as in appeared in Gujarat Samachar.

On behalf of our global nagar community, NAGAR Team express sincere condolence and pray our lord to rest his soul in eternal peace. Our prayers are with his family during this difficult time.

Leave a message in the online condolence book | View the online condolence book