The Jai Hatkesh Symbol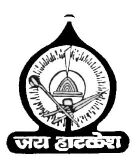 This symbol is actually made up of three parts (Kalam, Kadchhi, and Barchhi)
The Kalam (pen) represents the intellect and scholarship of Nagars.
The Kadchhi (ladle or tool) represents the loyalty, service, and religious fervor of Nagars.
The Barchhi (small spear) represents the defense, dignity, and bold courage of Nagars.
All of these things put together above the words "Jai Hatkesh" is the symbol of Nagars!